The Medicine Risk Management Programme
MRM is dedicated to managing chronic medicine usage
Established in 1995, to provide a service for patients requiring treatment of chronic medical conditions.
MRM is dedicated to managing chronic medicine usage and ensuring quality care through integrated healthcare and holistic patient management.
Expert Assessment and Advice
To ensure that the correct chronic medication has been prescribed. Our panel of pharmacological and medical advisors will assess the medication in accordance to guidelines and suggest alternatives.
We also endeavour to provide advice and information regarding chronic conditions.
Enhanced Authorisation Process
With our medical experts and technology, we have made our Chronic Authorisation Process highly efficient, so we won't keep you waiting on authorising the medication which you require.
For Medication Authorisations
1

Download the application MRM Programme form

2

Print out and complete the Member and Patient Section

3

Get your Medical Practitioner to complete their section

4

Both the Member and the Prescribing Doctor are required to sign the completed form

5

Place in an envelope and post to us

Medicine Risk Management
PO Box 15079
Vlaberg
8018

5

We shall process once we have received your form. A copy of the medication authorisation letter will be posted or emailed to you.
MRM Reference Guide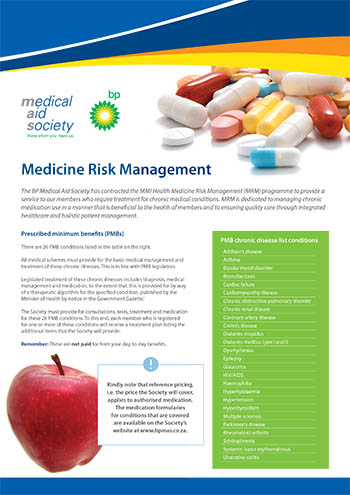 Application Process
Authorisation of Medication
Unathorised or Rejected Medication
Re-Applications
What does MRM offer?
Prescribed Minimum Benefits (PMB)